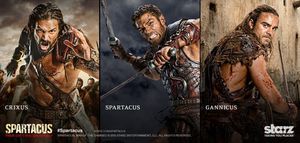 B is for broadcast, all my favorite broadcasted tv shows.
This one can looks weird and useless I know but this my alpha biography so I hope you ( M.Literature in English teacher) won't give me a bad marks for talking about this.
Whatever
I have decided to talk about TV series because they have marked my years as a teenager. I'm always watching a serie. Literally always. To be honest I could have way better marks/grades if I didn't look so many series and spend all my time watching them. They teach me a lot of things. Indirectly and sometime directly. You would be surprise to know how many things you can learn with TV series and movies.
If later I come here, I want to remember every single series I have watched therefore I'm going to make a list.
Game of thrones
Breaking bad
Arrow
Pretty little liars
Grimm
The lying game
Nikita
Banshee
Spartacus
Awkward
Scandal
Revenge
Beauty and beast
White collar
The originals
The vampire diaries
Continuum
Carrie diaries
Witches of east end
Betrayal
Supernatural
Teen wolf
2 broke girls
100
Dracula
Secret circle
Legend of a seeker
Alcatraz
The tomorrow people
Reign
Bitten
Covert affairs
Atlantis
Heroes
Scandal
Weed
The client list
Devious Maids
And a lot other series I don't remember and the ones I will watch
Life lesson : I've learn a lot of things. But my favorite life lesson is the one I've learned in Spartacus : There is no greater victory than to fall from this world as a free man.
Pour être informé des derniers articles, inscrivez vous :